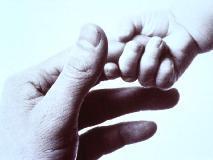 "Where two hands reach and touch,
There is a bond.

Where two hands reach,touch;
Then Hold,
There is a bond with Strength.

Where two hands reach, touch,
Then Hold,
Then Grasp, And Share the Time,

There is a bond FOREVER.

And so, the Energy that is Shared,
Conveys Respect
and Mutual Benefit

That Lasts and Stays
Long after Other Nurturing
Has Long Ceased To Be."

An Anonymous Poem,

dated December 15,1977

in honor of the BTB Mother-Baby Fitness Method

of Shared Exercise designed to help Bonding and Nurturing.




But there are more ways to bond than through exercise alone, and that is what this web site is here to help you do. My children and I bonded soon after they were born through touch, talk, holding, sharing, nurturing (whether breastfeeding or bottlefeeding), doing, exercising, and on and on.

Do you wonder what happens to a relationship where these types of activities slow down or stop? Easy. The bonds break, and the two part company. But, it doesn't have to be that way.

Once baby becomes a toddler, and later grows to be a youngster, and eventually a pre-teen, then a teen, and eventually a young adult, and adult, you can still work to maintain those bonds,and I'm here to help you learn new ways and methods to do just that. But, first, please bookmark this site by clicking on the BookMark Option below so you can come back and visit often.

Webshots! Over 1000 screen saver and wallpaper photos. Free Download!




NOW, IF YOU WOULD LIKE TO LEARN MORE ABOUT MOTHER-BABY FITNESS FOR MOMS AND DADSClick Here

OR, IF YOU WANT TO JUST TALK WITH SOMEONE WILLING TO LISTEN AND HELP YOU LEARN A WONDERFUL THAT YOU CAN USE TO SOLVE YOUR OWN PROBLEMS, THEN CLICK HERE TO SEND A CONFIDENTIAL EMAIL TO ME AND REQUEST ADVICE OR FIND OUT SOME MORE ABOUT WAYS TO STAY BONDED EVEN UNDER WHAT SEEM TO BE THE WORST CONDITIONS. FOR EXAMPLE:

Have your children come home and complained that they have suffered harrassment due to the antics of friends or classmates?

Worse yet, have they come home and told you that they believe that a teacher has harrassed them?

If so, I can help you solve it!

Or, your child keeps telling you "You Just Don't Undertand Mom." I can help you to learn creative and affirmative techniques to build relationships as a foundation to dealing conflict

Discover how to distinguish facts, from feelings and values.

Learn the power of " Woubl-u " messages, and Practice the use of "Woubl-u" messages to express emotions and needs.

Solve conflicts through role-plays by working in large and small groups. Training

is all online and FREE on a trial basis. I is also fun and can benefit adults in all walks of life - at home, in business or in the workplace.


Other topical areas include:

FACILITATING CHILDREN'S PROBLEM-SOLVING

DIVERSITY IN THE WORKPLACE

PRACTISING ANGER MANAGEMENT

HOW TO HANDLE PEER PRESSURE AND BULLYING




NEXT, IF CHECK OUT BELOW IF YOU WOULD LIKE TO READ LATE BREAKING NEWS RELATED TO GIVING BIRTH, PREGNANCY & PARENTHOOD